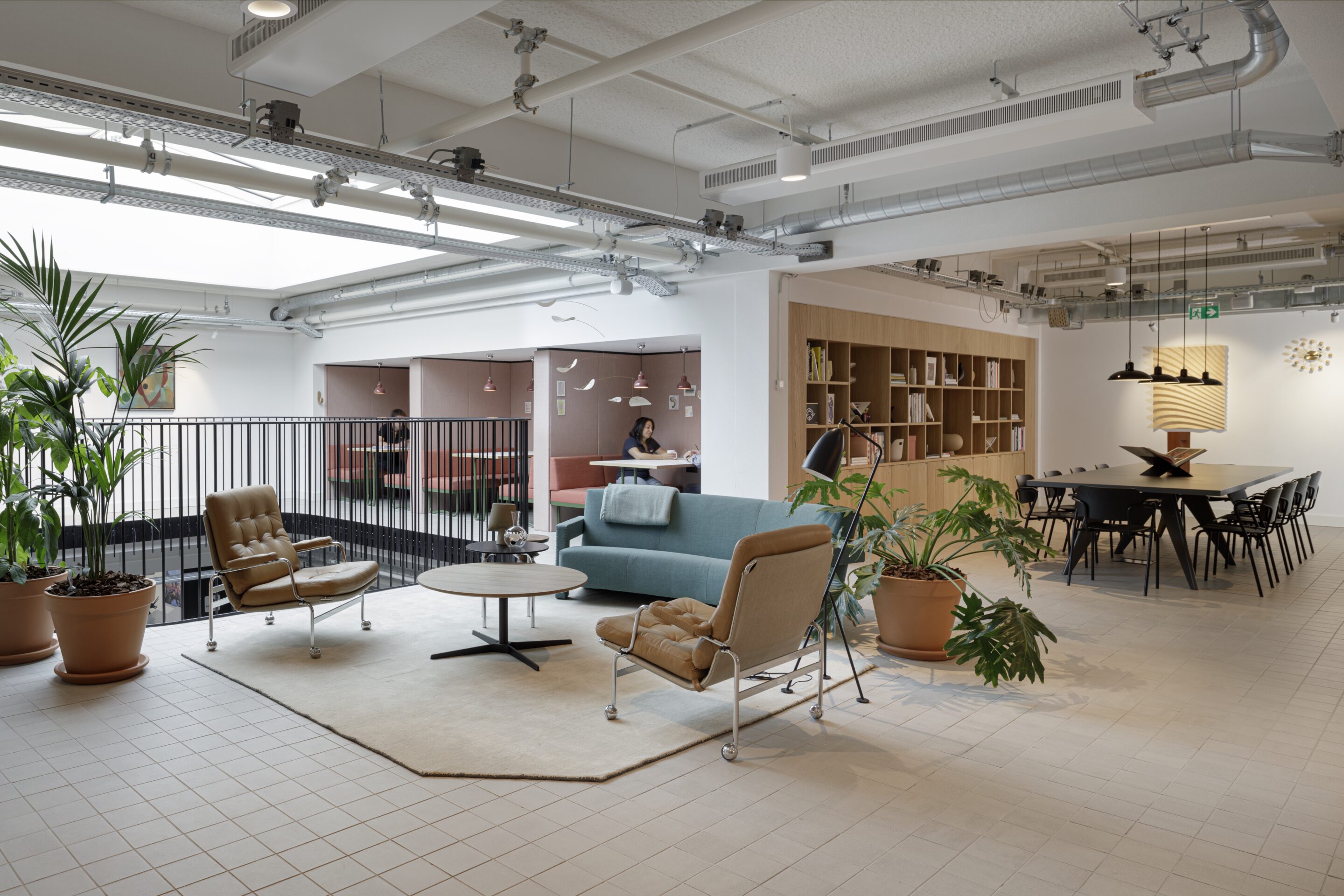 mixed-use transformation
House Modernes
This is bs;bp's 50th design for the Spaces brand. It has been recognised by Arc22 in the interior design award category. Part of a new series, House Modernes makes quality workspace accessible to different workers, closer to their homes. The transformation of House Modernes offered several challenges. To address this, we applied design elements that matter most to different worker groups. It makes a strong design statement, supported by a strict budget.
House Modernes goes beyond its mono-functional origins. It is a mixed-use destination for people to work, eat, drink and relax. Similar to a third place, a term coined by Starbucks,  Spaces offers a social space that is distinct from the traditional categories of 'home' and 'workplace'. Bs;bp has been at the forefront of shaping the design culture for workspace communities. 
Function
Business club, co-working, meeting rooms, flexible offices, 45 Open Desks.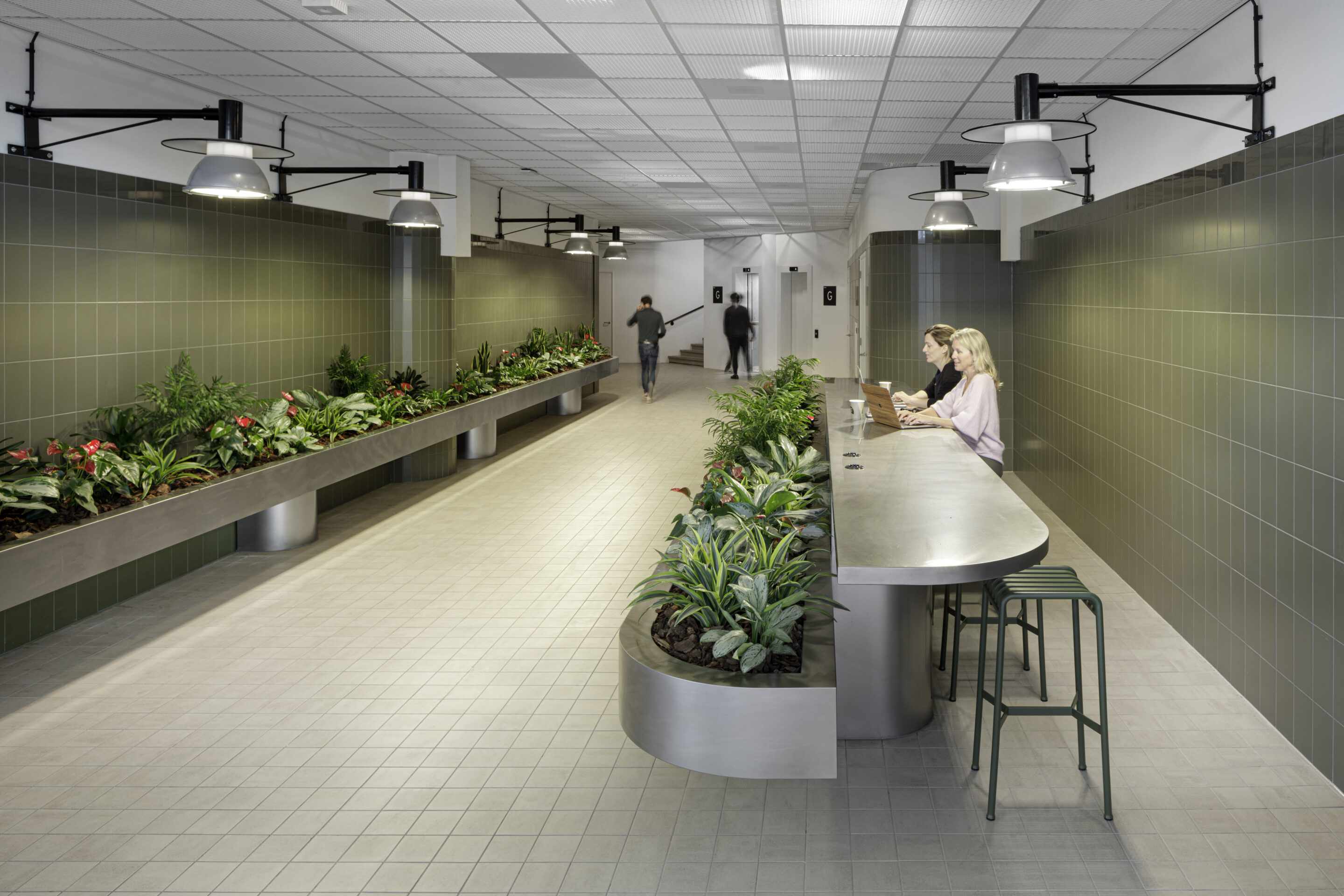 Photography: Ewout Huibers
The challenge
Bs;bp is responsible for the global design consistency for IWG Plc, a front runner in flexible workspace for hybrid working. We have developed Design Guides for all IWG brands (including Spaces, Regus, Signature and HQ). The interior design for House Moderenes is based on the Spaces brand concept. For our client, House Modernes is also a flagship location. That's why bs;bp has created a custom design and taken the oportunity to explore new ideas.
For instance, typically the business lounge is located in the plinth. But in this building the plinth entrance was less suitable for the business club. So instead, we looked at the qualities the building has to offer and decided to position the business club the "wrong way round". The lounge and reception is now at the top floor. That's why, from here people have easy access to the inviting roof terrace with charming Utrecht views. At ground level, a green modern hallway draws people in. As people move upstairs they enter the warm upstairs experience.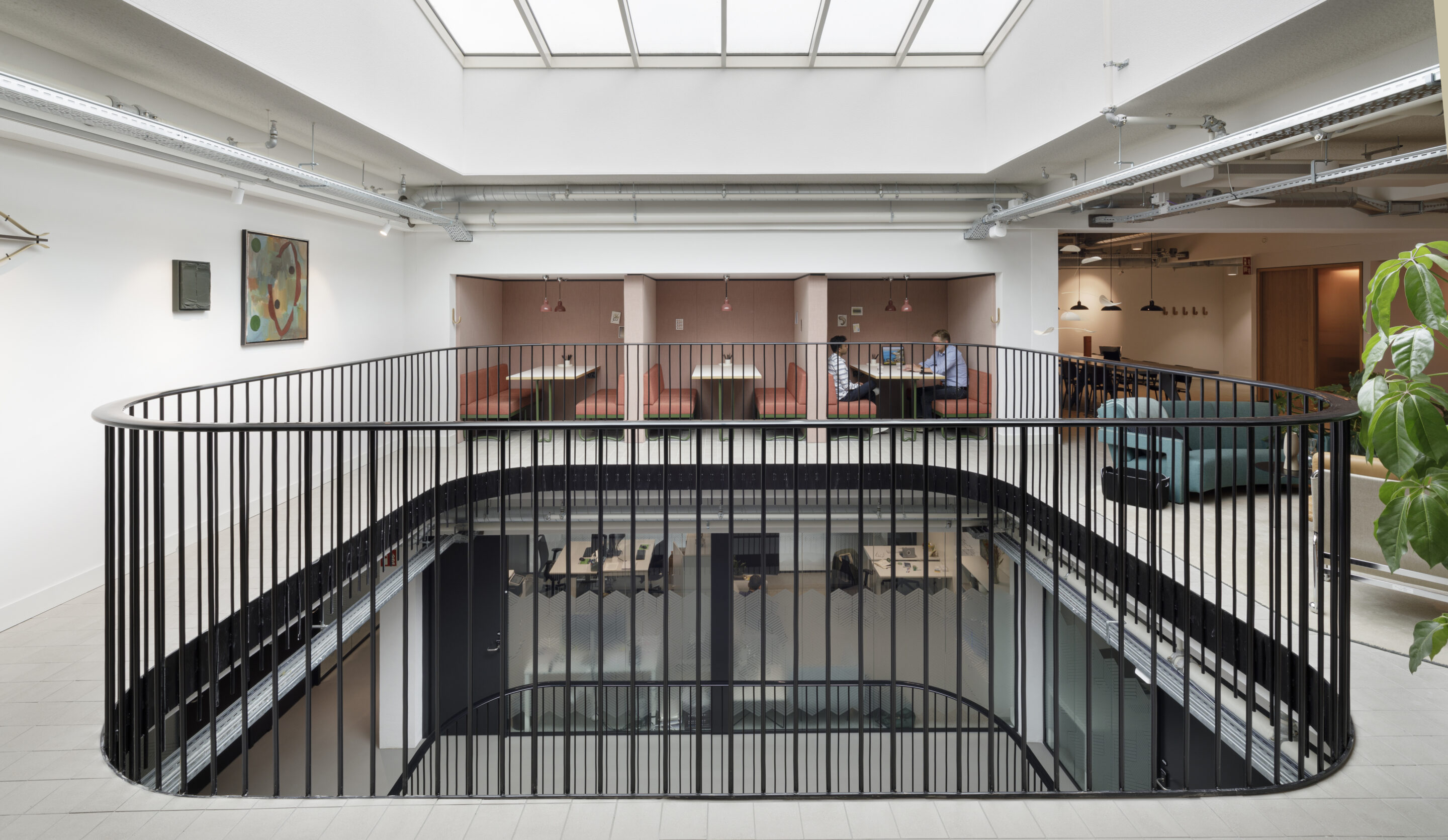 the void connects the business club to all work communities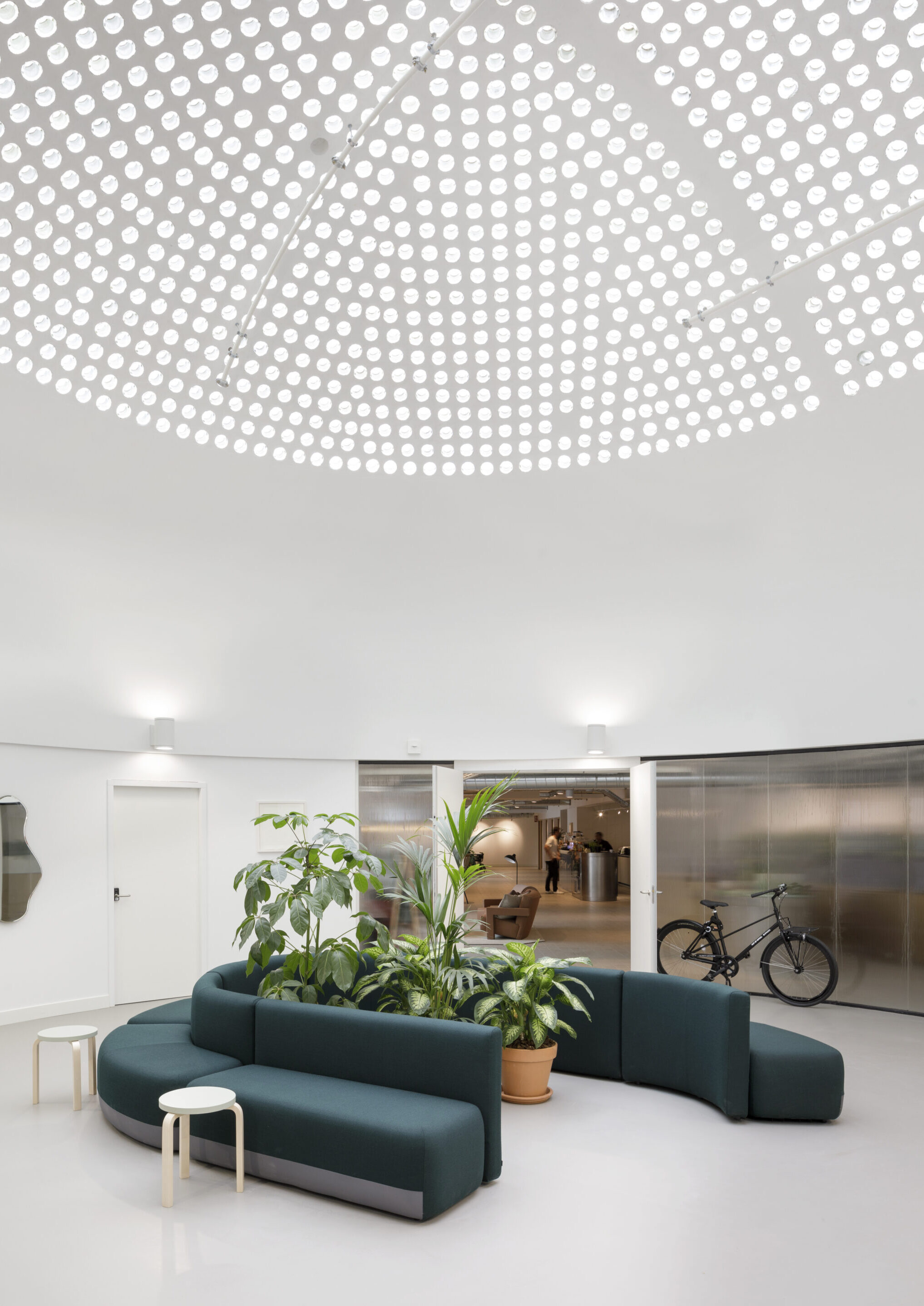 5th floor entrance to business lounge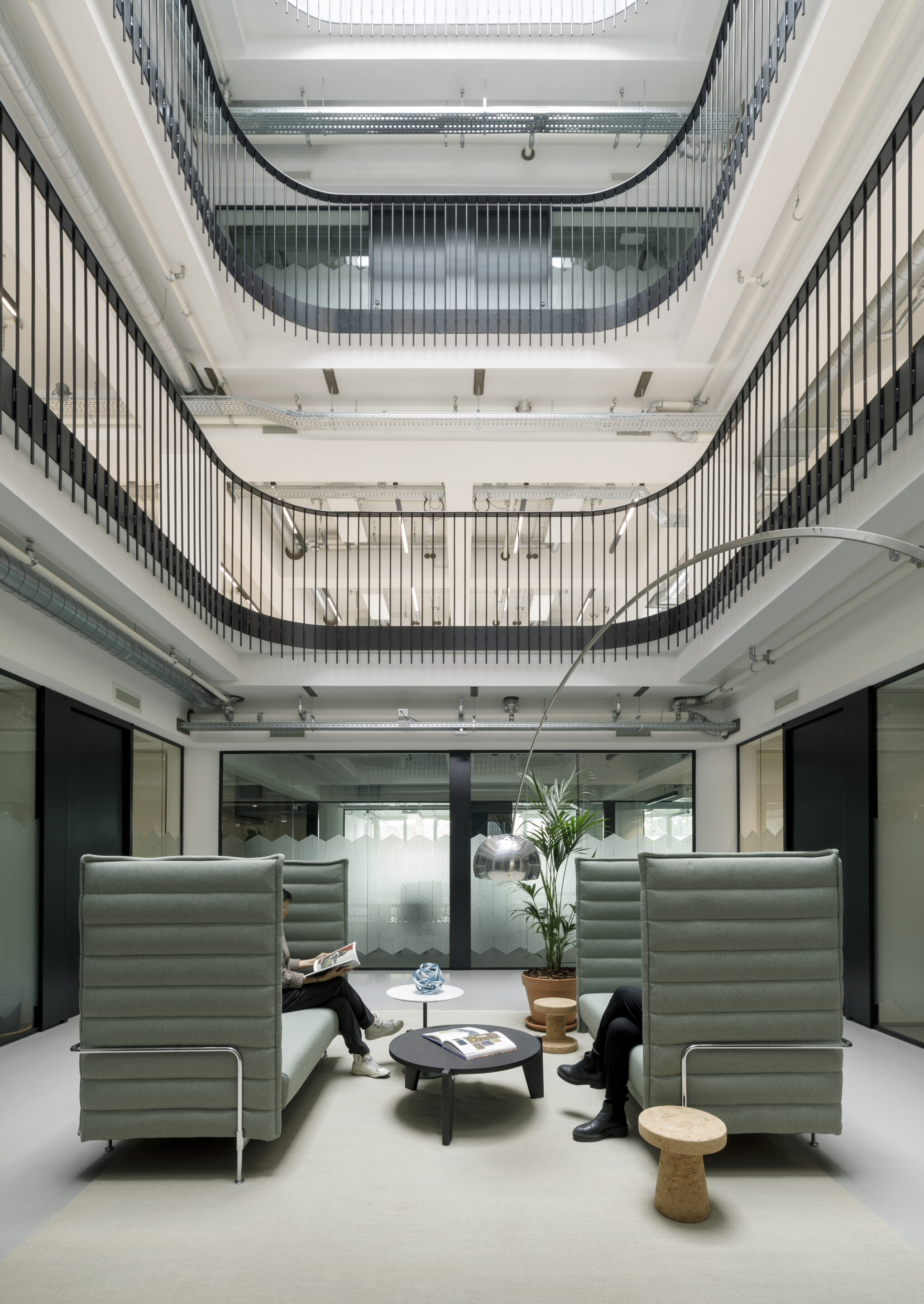 soft seating on lower ground floor
Workspace communities
For the first time bs;bp has included the option of placing two lounges of different co-working brands side by side. The design is careful to avoid a hierarchy between brands. A single shared entrance on the 5th floor, with RVS furniture, mirrors the elevator in an eclypse shape with a dome roof. Materials become softer, as people move into the business lounge where they spend more time. Around the coffee bar there are open workspaces, while in nooks and corners people cocoon for deep, concentrated, work.
Shared amenities
In the 2022 IPCC report the sharing economy is identified as a top contributor to sustainability, since it reduces the average CO2 footprint. Spaces House Modernes offers users of flexibles offices and co-working members access to shared amenities such as a business lounge area and meeting rooms.
Modular Design
On the 1st floor the 45 Open Desks have been designed by bs;bp with sustainability in mind. The Open Desk concept is part of IWG's strategy to increase workspaces in residential areas. Shorter work commutes means a lower footprint. Modular by design Open Desks easily transform any empty space into workspace. Individual elements can be repaired and reused, thereby extending product lifespan and reducing material use.
Kinder for people and planet
Open Desks are transported as flatpacks, lowering emissions. The offcuts of the fabric panels are upcycled into tapistry with artisan female weavers in Marocco earning a fair wage.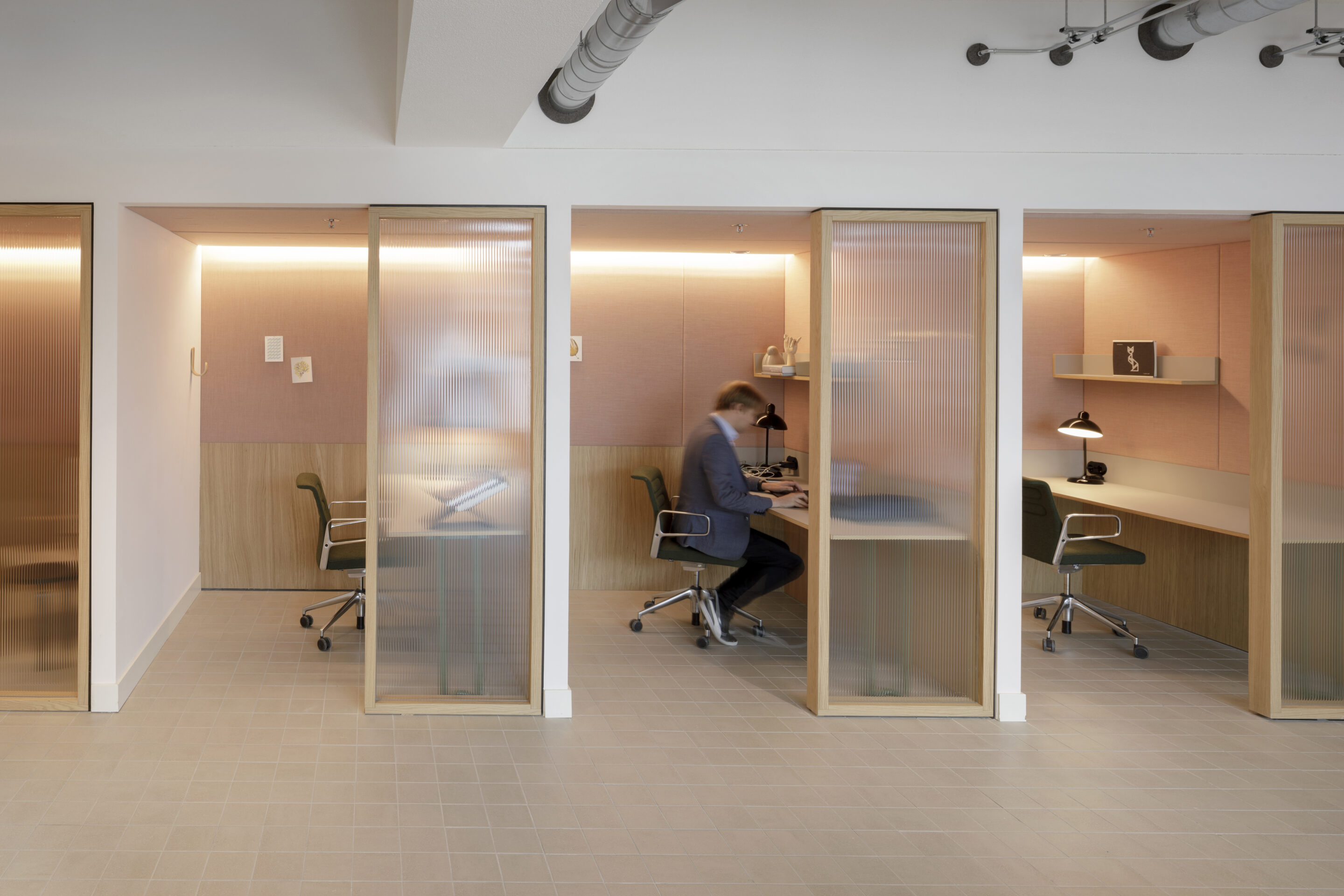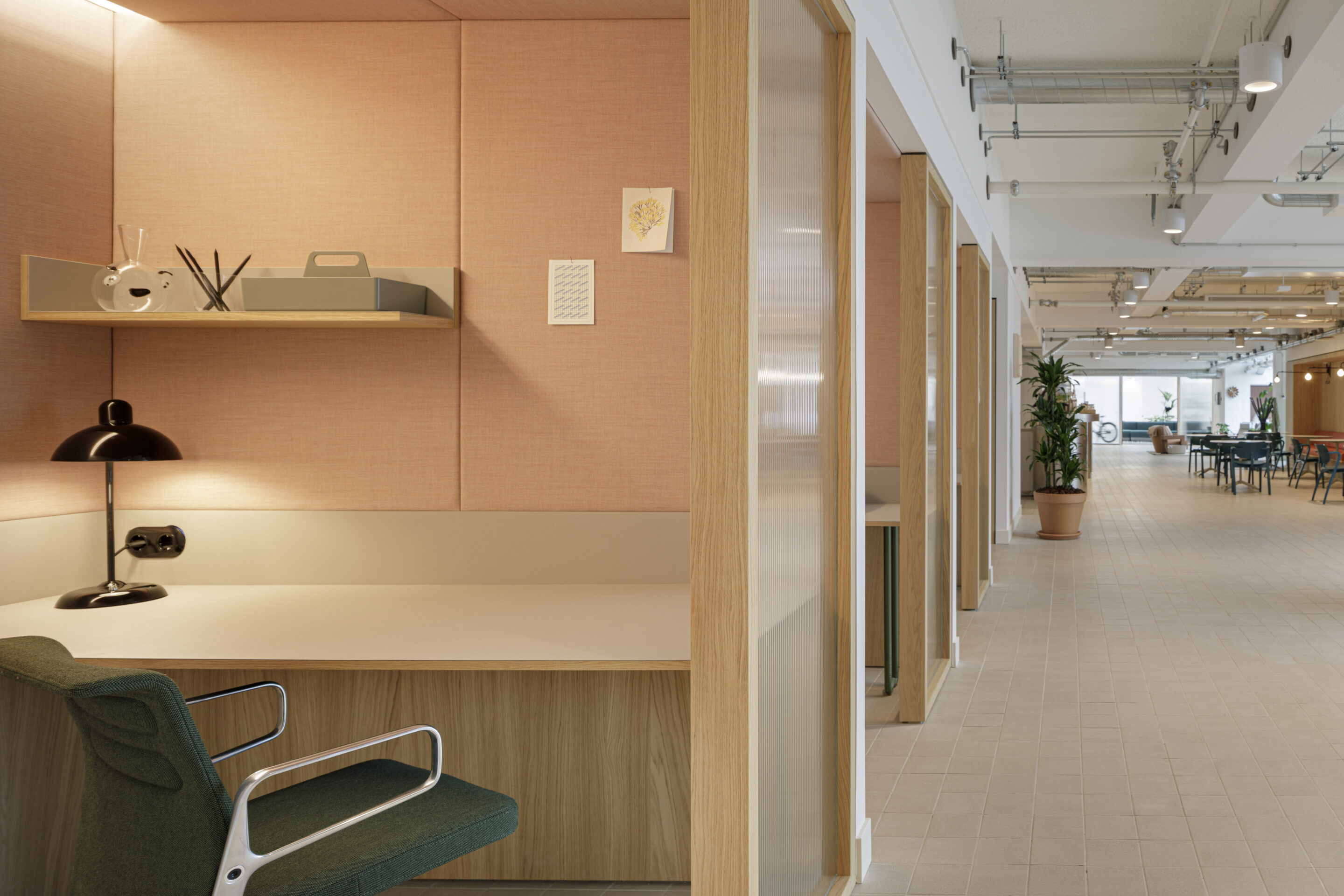 "We're happy! Before opening we rented out 31 of 43 Open Desks, a 71% occupancy rate. Users love the privacy it offers. And having their own space in an open work plan is very attractive to them."
– Jeroen Roverts, Sales Director IWG
Do you face a design challenge?
Speak to one of our experienced designers, without any obligations.
Discover how better space and better people do better together.